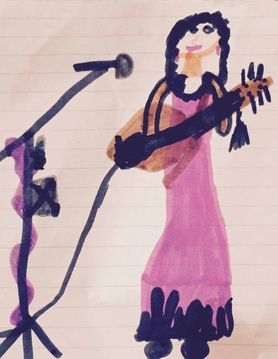 Suzy has been in choirs in school and the church and community for many years.  About 26 years ago, she joined her church band and coordinated it for about 8 and remains a part-time member. This fueled her music career and she is very grateful for this opportunity. 
Since then, there have been many musical opportunities for her including being a rhythm guitarist and vocalist for the band, Sapphire Song, which played positive message and Christian rock music.  Suzy has played from time to time with a group of fellow nurses at the hospital where she works as a nurse called "The 5-Star Divas."  They performed cafeteria concerts for the staff for Nurses Week and Christmas and did Christmas caroling for the patients on the units. 
From 2003-2012, she had tremendously enjoyed collaborating with Sandie Stemple in a locally popular duet known as "Just Duet."  They still rally together to sing "The Star Spangled Banner" for various events around the county.
Currently, Suzy has many musical options and has been playing solo for various venues such as Wineries, distilleries, French Markets, bars, restaurants, weddings, funerals a and also with a group of interchangeable musicians known as "The Joey Sunset Project" fronted by  her dear friend, Jim Duncan 
She also plays occasionally in a duet called, "IRIS."  This stands for "I'm Rick I'm Suzy."  Rick Cartwright is the 'one man band' on keyboard and Suzy plays guitar and sings most of the leads.  Sometimes they add amazing lead guitarist, John Rogutich and drummer, Kirk Gustafson to the mix for extra fun and are known as "Suzy and the Q's"!  This is a crazy-good band and we play many 80's classic rock type music and some current music as well.  A great party band! We are on hiatus because Rick moved to another state.
Recently, Suzy has joined a brand new band called "Creepy Uncle Jack" which consists of Jack Berman (formerly of the Minks), Tom Amidon (also formerly of the Minks) on bass and Tim Essington on drums.  There is really nothing creepy about Jack, but he is a wonderful rock and roll guitarist and this band is meant to party with tunes by Tom Petty, Social Distortion, The Rolling Stones, Joan Jett, The Romantics, Elle King, Bonnie Raitt, Beatles, Nick Lowe, etc.  You get the idea. 
Suzy is excited to finally be offering  her very first professional CD as  recorded at Starbell Hatchery Studio in Harvard IL with John Hegner, who was amazing to work with!  It is called "My Rainbow" and is available on this website and you pay whatever you'd like.  It can also be obtained by  contacting her through this website and via Facebook under Suzanne McKenzie Schwartz, via email (chickpick63@charter.net) or phone, 815-790-9081.  This CD features other musicians such as George Muligano on lead guitar, Peter Calo on lead and rhythm guitar, Brian Schwartz (yup--Suzy's son!), Sherry Butzow on violin, John Hegner on piano and Jim Seidel on stand-up bass.  She has endless gratitude for these fine musicians who were willing to help her achieve a bucket list item. 
Suzy lives in Marengo, IL with her husband of 40 years, David.  Together they are blessed with 2 sons, a daughter-in-law and 2 granddaughters.